The fingerprint of your eyes, measured with DNEye®
Every driver knows that their vision may be restricted in the event of heavy rainfall, fog or snow. Driving at dusk with the glare of oncoming headlights also poses a real challenge for many people. With Rodenstock Road, and combined with our exclusive DNEye® technology, we have special lenses which are designed to meet the needs of motorists and ensure enhanced road safety.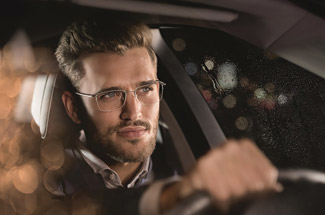 GOOD VISION. SAFE JOURNEY!
Our road safety depends on much more than just the vehicle or our individual skills behind the wheel.
With specially developed single vision and progressive lenses you are ideally equipped for the visual requirements of driving - for enhanced safety in road traffic.
UNRESTRICTED FIELD OF VISION FOR RAPID CHANGE OF FOCUS
Safe driving requires an unrestricted field of vision: When we are behind the wheel we must oversee the road, the dashboard, the mirrors and often a navigation device all at the same time.
With Rodenstock Road the lens design has been specially adapted for this purpose.
LESS DAZZLING AND MORE CONTRAST
Many drivers feel dazzled when driving at night, especially by modern Xenon or LED headlights. The innovative Solitaire® Protect Road 2 coating reduces these dazzling effects.
EXCELLENT NIGHT & TWILIGHT VISION
Many drivers feel uneasy when driving in the dark or when visibility conditions are poor. In the dark the pupils enlarge, and light beams are refracted differently, creating a blurred image.
With the special DNEye® measurement device this effect is detected and individually corrected.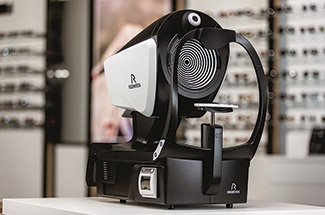 SEE THE WORLD LIKE NEVER BEFORE
We are setting new standards in eye measurement with our Rodenstock DNEye® Scanner.
The scanner performs a comprehensive individual analysis of your entire vision system, consisting of the eyes and lenses.
Thanks to DNEye®, you experience razor-sharp vision with enhanced contrast, particularly at dusk - this is unique worldwide and only available at Rodenstock.
Unlike some of the larger optical companies, we don't have sales targets imposed by a distant head office. Having the freedom to run our own business means we can take the time to understand you and your eye care needs.
Having the choice of appointments with the same optician every time enables us to get to know you better, helping us to care for your eyes more effectively. As an independent optician we are frequently better equipped than chain rivals, and national companies struggle to match our sophisticated new equipment or diverse product ranges. Because we're not tied to any suppliers or committed to selling particular ranges, we can stock and recommend the products that are best for you.
It's no surprise that Which? magazine rated independent opticians as the top optical provider for customer satisfaction in its two most recent industry surveys. Independent practices provide a level of care and continuity that many of the larger companies couldn't hope to match.
Finally, there's one huge advantage in trusting your vision to an independent optician – we have time for you. With our skills and knowledge, we spend however long it takes to ensure your vision is as clear and healthy as possible. Your eyes deserve nothing less.