Healthy lives, healthy eyes
As well as being windows onto the soul, our eyes provide a reflection of our lifestyles. Being healthy and making the right choices can have a significant impact on our vision, and these top tips will help to ensure everyone enjoys the best possible eye health: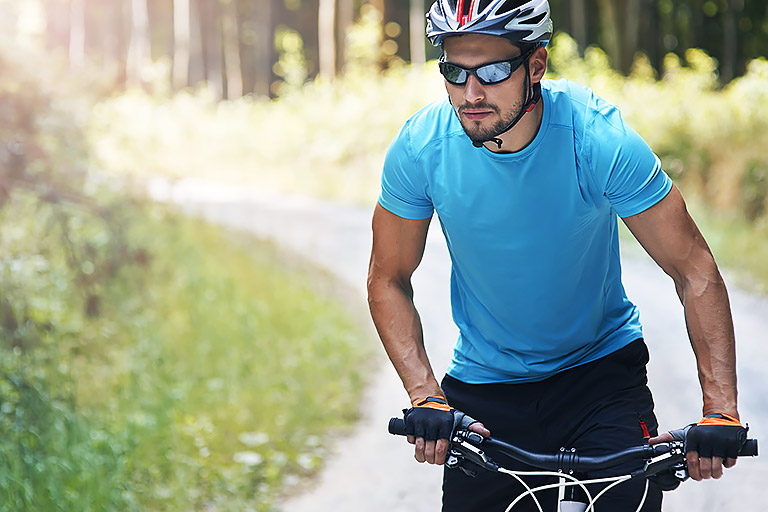 Have regular eye tests Our specialist equipment provides a detailed eye health check, allowing us to start treating problems at the first possible opportunity. Regular eye tests are particularly vital for monitoring sight levels and eye health in children, and we stock specialist spectacle lenses designed for office work.
Cut out the cigarettes Smoking doubles your chances of developing cataracts and can treble the risk of age-related macular degeneration, which causes severe impairment of vision. Your wider eye health is also likely to suffer unless you can kick the habit.
Serve and protect No matter whether you're an amateur tennis player or a professional builder, your eyes should be protected against flying objects and dirt. Glasses, goggles or masks will prevent eye-related injuries and avoid any build-up of damage over time.
Stay in the shades Sunglasses don't just look stylish, they also filter out invisible (yet harmful) ultraviolet rays that damage retinas and corneas. Anti-reflective coatings and polarised lenses reduce sun glare, which can dazzle you and damage your eyes.
Never drink to excess A few pints might make your vision a bit wobbly, but excessive alcohol consumption can also damage the optic nerves. Heavy drinking increases the risk of cataracts and AMD by reducing the liver's ability to process important vitamins.
Reduce screen time We're not meant to stare at computers or phones for hours on end, and our eyes can easily become tired. Give them hourly breaks by focusing on distant objects, to avoid eyestrain that may cause headaches and loss of clear sight. We can also advise about glasses that are optimal for regular computer use.
Eat healthier A plate of vegetables is a feast for your eyes. Many fruits and vegetables contain vitamins A, C and E, which all provide us with vital antioxidants, while lutein in peppers and berries reduce the risk of eye diseases. Friday takeaways are fine as a treat, but studies around the world show that carb heavy diets increase the risk of cataracts.
Make up and mend Removing any make up in the evening gives your eyes the chance to recuperate from time spent beneath a layer of chemicals. A good nightly cleansing routine is highly recommended, including both hypoallergenic wipes and soothing eye creams.
Ask the experts If you notice anything unusual about your vision call us for an appointment. We can help resolve any minor issues before they start to become more serious.
Independent thinking
We are proud to be an independent local optician, and according to the experts at consumer body Which?, our pride is well-founded. In a comprehensive survey of UK opticians, independents topped the table with an average customer score of 87 per cent – significantly outperforming every national chain of opticians.
Which? surveyed over 4,000 practices and independent opticians achieved the maximum 5-star rating in five of the seven chosen categories.
Customer service
The Which? survey investigated seven key categories, including store environments and the thoroughness of eye tests. Local independents were the only opticians to achieve five stars in customer service, product quality and aftersales. While independent opticians received a five-star rating for their store environment and customer service, some of the national chains were awarded just two stars.
Overall ratings
There was little distinction between high-street chain opticians and retailer spin-off brands, whereas independent opticians achieved top ratings in five of the seven categories Which? assessed. The independents' industry-leading 87 per cent customer score was calculated according to satisfaction levels during each respondent's most recent visit.
The bigger picture
This survey of almost 8,500 Which? members bears a striking resemblance to a similar report in 2014. The previous survey also concluded that local independent practices led the way for quality and service, recording similarly large rating gaps between independents and high street chains. It seems the benefits of using independent opticians remain as compelling as ever...
"Independent practices lead the way for quality and service"
Child's play
Choosing glasses for children can be a tricky task. Our noses and cheeks have different proportions to our faces when we're little, and playgrounds are unforgiving environments in terms of wear and tear. Fortunately, we have plenty of experience taking those all-important measurements and matching our younger patients to suitable spectacles...
A comfortable fit is the most important aspect of choosing a child's glasses, frames that pinch the nose or fall off all the time will likely end up getting 'lost' somewhere!
Eyes should be central within the lenses (both horizontally and vertically), while nose pads and arms should fit snugly without pinching. We can recommend frames that will complement the lenses required for your child's prescription strength, and we can adjust frames to ensure an optimal fit. Slimmed-down lenses are good for reducing the visual impact of glasses, allowing a wider choice of frame designs.
Another vital attribute for children's glasses is durability, so choose hardwearing frames that can cope with impacts and drops. Many modern frames have spring hinges, which allow the arms to bend outwards slightly without snapping; dedicated sports glasses can also withstand the worst impacts and stresses of physical exercise. Modern lenses are very durable, but anti-scratch coatings will keep them in pristine condition (and providing optimal vision correction) for even longer.
Your questions answered
In a new feature, we offer expert advice on common vision-related questions...
Q. I have colourless blobs and lines moving around in my vision. They tend to follow my eye's movement, but I can't focus on them. Should I be worried?
A. What you're seeing are known as floaters or spots. Millions of people have them, and they're largely harmless. Our eyeballs are filled with a thick vitreous gel. Thinner strands of gel detach from the retina and float harmlessly around, responding to movement but continuing to drift after your eye stops moving. They're most noticeable in bright conditions, however, if you notice a sudden increase in floaters, seek advice as soon as possible.
Q. I bought a pair of sunglasses on holiday, but I get headaches when I wear them on sunny days. Is there something wrong with them?
A. The sunglasses in our practice are sold with in-built protection against the ultraviolet light that can damage the sensitive corneas, lenses and retinas in our eyes. However, both cheap or imitation sunglasses probably won't have much UV protection to filter out these harmful rays. All our lenses are to a full optical standard, so even our non-prescription sunglasses have the same high-quality lenses as our prescription lenses. We'd always recommend avoiding sunglasses bought from overseas markets, even if they're authentic-looking and temptingly priced...
Q. I've just started a new job that involves lots of driving. I wear contact lenses, but do I need to change how I wear or look after them?
A. The simple answer is no. Today's contact lenses are extremely comfortable and practical, and more of our patients are choosing to wear them throughout the day as an alternative to glasses. If you're going to be behind the wheel for long periods, we can recommend some lubricating eye drops to use with your contact lenses, which you can keep in your glovebox. Take regular breaks from driving, and try to focus on objects at different distances for a few minutes. Finally, speak to us about investing in a pair of good sunglasses, to reduce the discomfort of low sun or glare on wet roads.